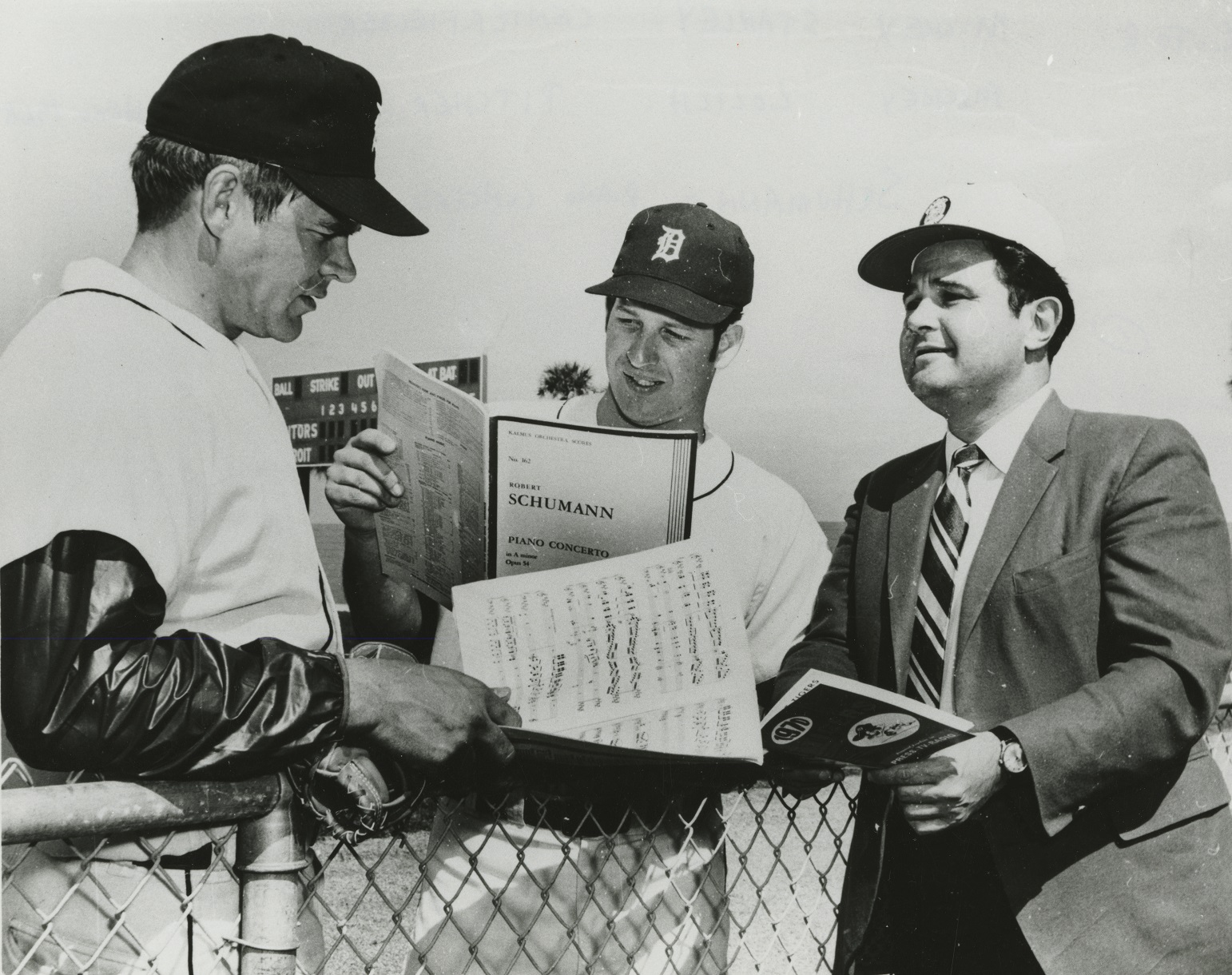 Istomin's passion for baseball was largely echoed in the press. Current Biography said that "for a short time he was a bat boy for the Brooklyn Dodgers". Time Magazine gave a less glorious account: « Brooklyn-born Eugene Istomin abandoned a boyhood ambition to play for the Dodgers (he served as their water boy during one spring training) in favor of a scholarship at Curtis, where he studied under Pianist Rudolf Serkin." In 1968, the musicologist Franck Hruby interviewed him for the Cleveland Press and titled his article "Istomin – Philosopher, Pianist and Tiger Fan". In The Bulletin dated September 21, 1980, James Felton wrote: "They call him Fingers' Istomin – the art expert and concert pianist. (…) Though he's spent most of his life involved in art, he had such a mania for baseball that he once moved his piano to the Florida spring training for the Detroit Tigers, who nicknamed him "Fingers".
His passion for baseball started in early childhood. It allowed him to feel integrated with his fellows whereas he might have remained confined in his bubble of child prodigy. In his own words, baseball was Istomin's "passport to America ».
Thanks to Doc Greene, a journalist of The Detroit News, Istomin could enter into the impenetrable secrets of baseball. His mentor was Chuck Dressen, a baseball legend who ended his career as manager of the Detroit Tigers, the team he brought back from the lowest ranks to the top. Through him, Istomin soon learned the ropes of this very complex sport.
Whenever he could, he went to the stadium to see the games, and he tried every spring to arrange his schedule to visit the Florida training camp of the Detroit Tigers. The baseball world welcomed him as one of its family. He was considered a VIP and graciously invited everywhere, even if few managers, and even less players, were interested in the piano.
His passion for this sport did not distract Istomin from his principles of humanism. He was shocked by the way the players were treated. They were like slaves, of course well paid, but yet slaves who were shamelessly exploited. When they were no longer profitable, less competitive because of age or injury, they were gotten rid of. They could also be sold to another franchise, even against their will. Istomin often protested against such methods and claimed that baseball would considerably benefit from more humane conduct: a higher commitment of the players, who would be more attached to their club, a better quality of playing thanks to a steadier squad, a greater passion from the fans…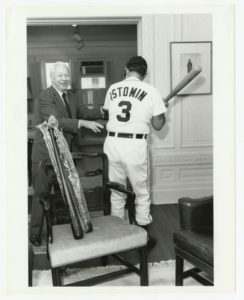 In 1987, when Istomin received the Paul Hume Award (by the name of the famous critic of the Washington Post), the Detroit Tigers presented him a genuine Tigers' uniform, perfectly suited to his size, with his favorite number and his name on the back, and a personalized bat. He was also proposed an American League player's contract, with an hourly wage of $3.87, for teaching the piano to the complete team!
When he could not go to the stadium, Istomin watched baseball on the TV, in his hotel room or at home. Emanuel Ax remembers that it was not conceivable to begin a class before the game had ended. Istomin admitted that if he had spent at the piano the thousands of hours he had been watching baseball, it would have allowed him to add a few Beethoven sonatas and Mozart concertos to his repertoire. He told James Gollin: "The only waste of time in my life was baseball ». But there was no question for him of regretting it, because for him baseball was an absolute enjoyment.
A funny self-interview of Istomin was published in various newspapers in October 1977. It was entitled either The World Series Sonata or "Prodigy Eugene Istomin was a normal kid, thanks to baseball". There was a quote in large lettering, « Istomin: Musician is no softy; he's tougher than pro athlete". It was signed Eugene Istomin, New York Times Service. He was telling the full story of his passion for baseball. It is also a valuable record of his writing and humor and self-mockery, with a mischievous split of personality between Istomin, the reasonable pianist, and Fingers, his alter ego baseball fan, as inspired by Schumann's Eusebius and Florestan!
Istomin: You are a well-known and, I'm told, respected musician. When and why did you become a baseball nut?
Fingers: My first piano teacher ordered me to become a normal kid.
I: Elucidate.
F: When I was six years old, my parents took me to play for Alexander Siloti, a magnificent, huge old Brahman Russian emigre musician who was a favorite pupil of Franz Liszt and Tschaikovsky; he was also the uncle and intimate of Sergei Rachmaninoff. I tapped out some "by ear" accompaniments to my mother's singing of Russian songs.
When we finished he got up and grabbed his left foot and wrapped it around his right ear, leering and bellowing: "And what do you think of this, my boy?" Then he said to my father: "Child prodigies are a bane, a crime against nature, and if you intend to exploit this boy, I will ask you to leave immediately". My father quietly answered: "We are prepared to make every sacrifice except to exploit our son". Siloti's voice softened: "Then you will let the boy grow up as normally as possible under abnormal circumstances. The life of a concert pianist is grueling; he will need stamina, so I want him to take up sports. Let him play ball." So that's the way it was.
I: Your father was a race-horse owner in Russia and even boughta and ran a horse named Petrograd at Aqueduct in the 1950's. (He won). I take it baseball was not his thing. Who took you to your first major league baseball game?
F: My uncle Elias, a bachelor and C.C.N.Y. graduate who loved books, girls and winning at anything. He invariably got tickets for all the big games. I saw the Giants murder the Dodgers in a double-header in 1933 – it was my first baseball spectacle. Later on, in 1939, I was at the All Star Game at the Polo Grounds when Carl Hubbell struck out Ruth, Gehrzg, Foxx, Simmons and Cronin in a row. That September I watched the Giant-Cardinal double header when, late in the second game, Cardinal manager Frankie Frisch procrastinated, waiting for darkness before bringing in Dizzy Dean to stop the Giants and go on to win the pennant. A few days earlier, I had seen the Dean brothers, Paul and Diz, pitch back-to-back shutouts in a doubleheader against the Dodgers, 13 to 0, and 3 to 0, with Paul pitching a no hitter. I was the first of seven I have seen up to now.
I: The Giants won the pennant and championship in 1933. I take it you became a Giant fan.
F: God forbid; I became a Dodger fan. I knew the agony and the ecstasy. Real Dodger fans were spawned in the 30s, when the team spent the Depression in sixth and seventh place. When they started winning, it was the first successful revolution since 1776.
I: Wait a minute. Everyone knows you are a Detroit Tiger fanatic. Don't you go every year to the Tiger spring training camp?
F: It's obvious you don't understand love, hate obsession. One of my uncle Eli's big games in 1934 was a Yankee-Tiger doubleheader. Already a confirmed Dodger fan, I had to like underdogs, which the Yankees were not. The Tigers could beat them; in fact, they managed to win three pennants between 1934 and 1940 during the Yankee imperial history. They are MY TEAM today.
I: Did you play baseball yourself? Did you dare?
F: I not only "dared" to play, but also spent hours and hours throwing baseballs and even tennis balls through a hoop to perfect my control. I pitched hundreds of Dodger victories against everybody except Detroit. Frisch, Mel Ott, Bill Terry, Ducky Medwich, Gabby Hartnett and other great hitters fell into their worst slumps against me. In real games in Central Park and Riverside Park I found hardball play generally less damaging to my hands than softball. By the way, piano playing is even harder on the fingers.
I: Never mind about the fingers, Fingers. It sounds as if you weren't practicing much, except in left field.
F: So true. Every hour I was forced to practice the piano I could have been perfecting my hitting to the opposite field.
I: Did you intend to become a ballplayer?
F: Not at all. Siloti wanted me to have fun, so I had fun. I admit I got a bit carried away, but what's wrong with watching Joe DiMaggio by day and hearing Rachmaninoff by night? I finally found time for practicing when I got to be about 13 years old – that was what old Siloti had planned all along.
I: But this addiction. How do you explain it?
F: I liked being a boy. Being good at sports gave me a cover to mask my being a "little genius". It made me a regular boy with my pals. Through baseball I ceased being an émigré child and became an American kid.
I: How did you get into what is known, capitally, as the Sports World?
F: I am not in it, but I am a graciously invited guest. In 1964, Doc Greene, columnist on the Detroit News, and his wife asked me to be their house guest, so that I could get away from the rat race of the New York music scene. I would occasionally drop in at the Detroit Symphony concerts and drag soloists and conductors back to the Greenes'. One night, we gave a party for pianist Leon Fleisher and Sixten Ehrling, then conductor of the Detroit Symphony Orchestra. Doc decided to spring on me a real-life baseball character. He was 340 pound Red Jones, retired American League umpire, who had great wit and a dubious familiarity with the names of people in classical music. He promptly christened Fleisher "Lenny Baby", Ehrling "Sixtoon" and me "Fingers". It was love at first sight between Redsie and me. He didn't laugh at my baseball comments, and I reveled in his every anecdote of diamond life, like the time he chased the entire Chicago White Sox team off the bench during a game with Boston.
I: Does Red Jones like music?
F: ''Turkey in the Straw", "Come to Jesus", the race-track bugle call.
I: What happened then?
F: Charley Dressen,the old Dodger, was managing the Detroit Tigers at the time. He had a penchant for ponies. A master at ploys, he appointed Red Jones to place his bets. Charley, at once, took a shine to me. Off the field when Tiger business was over, he spoke about baseball only to me – what an education that was! He stated taking me to dinner with Jim Campbell, the Tiger's general manager, and through Charley and Jim, the whole Tiger organization, from owner John Fetzer down, became my family. Campbell remains doubtful about some trades I try to get him to make. In the mid-60s I figured out a legal way to get Sandy Koufax without giving up anybody. This idea was considered radical and I was voted down. I retain the formula for his gambit for possible future use.
I: Judging from one of your photographs, you must have tried to sign Pablo Casals for Tigers. How did you railroad him into the pose?
F: Casals was a fine tennis player and sports fan in general. He enjoyed watching baseball on television but kept saying, "Beautiful! I don't understand anything." Like most Europeans who prefer perpetual-motion sports, he found baseball rules harder to grasp than the theory of relativity. I could have straightened him out at his first ball game in 1901, which unfortunately preceded me by a year or two. As you can see, he was a natural hurler like me.
I: Your friends Lee McPhail and Frankie Frisch weren't Tigers.
F: Lee McPhail, a concertgoer, who was general manager of the Yankees, finally gave up trying to lure me to them and, in despair, became the American League president. Frankie Frisch was a baseball manager I could talk music with – at last. How he loved music.
I: Did you ever get Dressen to a concert of yours?
F: Yes, poor Charley went to two concerts in Detroit a couple of weeks before he died, but I'm sure this did not hasten his departure. (…)
I: What is the most artistic moment in a baseball game?
F: My favorite scene is pitcher versus power hitter in the clutch. This a bloodless bullfight. All really good hitters love the fast ball, no matter with the velocity. Pitchers like Bob Feller and Nollan Ryan could surpass the speed of sound, but the DiMaggios and Rod Carews could see the stitches on an incoming fast ball. A pitcher's only hope with that kind of hitter is to upset his timing with sneaky breaking stuff, but in precisely the right spot, otherwise it's curtains again.
I: You mean the pitcher must try to make the perfect pitch in the moment of greatest danger, not just to overpower? Like the eloquently played but simple sounding Mozart phrase next to the crashing octaves of Liszt?
F: It's harder to play Mozart when the adrenal is flowing than to rip off a fast fortissimo passage. It takes courage to thread the needle while the boat rocks between Scylla and Charybdis.
I: May I suggest we get back to the piano?
F: Both of us?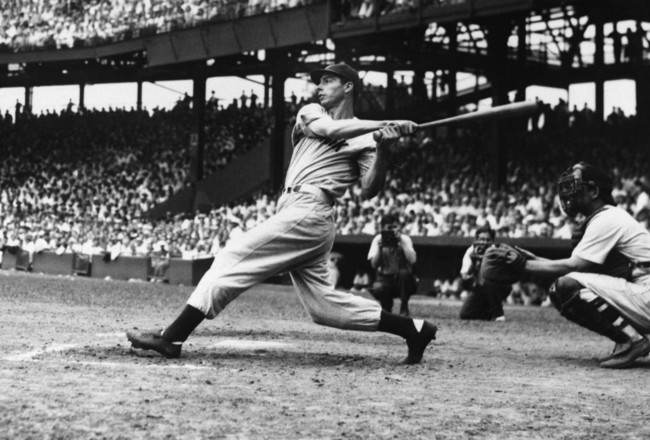 Joe DiMaggio