The first years in Prades (1950-52)
"I went to meet Casals in April 1950. I was in Paris at the Chatelliers', the French family I used to settle with every time I came to Paris. I had written to him: 'Maître, would you allow me to visit you before the festival?' I was dying to see this great musician, this great humanist who already had this legendary aura. He answered me immediately: 'Come, come, I'm waiting for you!'
I took the train to Prades and knocked on his door with great curiosity, but also with terrible fright, because I was aware that he would ask me to play for him. I didn't want to play for him. I was too scared. I invented a little trick to make him play four hands with me. I knew he was a very good pianist. That way, I'd sneak in at the piano next to him. I could warm up, let the nervousness fade and then make a good impression with my playing! Before leaving Paris, I looked for a score and finally found a four-handed transcription by Debussy of Schumann's Six Canons Opus 56 for pedal piano, which I brought to Casals.
I knocked on his door. He opened the door for me, in a little sweater, in all simplicity, with his big beautiful blue eyes, with his warmth. We sat and started chatting. He smoked his pipe. He started flattering me, telling that he had heard a lot about me. He eventually said: 'Do you want to play something for me?' I replied: 'No, Maître, I'm too scared. But I suggest we play four hands together. Do you know this work by Schumann?'. How cheeky! 'No, no, I don't know it', said Casals. 'Oh! How interesting!' And we immediately start playing. His upright piano was horrible, but Casals was thrilled by the beauty of the music.
When we finished, he asked me: 'Now, do you want to play something?' And I played Bach's Toccata and Fugue in E minor that I had prepared for the festival. He jumped of excitement: 'It's a revelation. Wonderful, wonderful!' And then Casals went to the next room and came back with his cello: 'Now I am going to play for you'. And he played the entire D minor Suite of Bach for me… just me… and him in front of me. I was in complete awe.
At that very moment I fell in love with Casals forever. He was the most generous, the most human person you could imagine. A great friendship developed. That year, after the festival, he said that if he ever played in public again, it would be with me. This experience, as any music lover can understand, left its mark on me for life."
During the festival, Istomin was supposed to have a very easy schedule. He was only to participate in one concert, on June 19. In addition to performing the Toccata BWV 914 and Partita BWV 826, two completely new works in his repertoire, he had to accompany Isaac Stern and flautist John Wummer in the Trio Sonata BWV 1038. The rest of the time, he could attend rehearsals and concerts, and be enriched by the music that Casals would play and conduct. He was the youngest participant, invited for mainly listening and learning.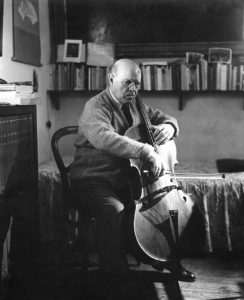 However, it happened that Paul Baumgartner, the Swiss pianist in charge of performing and recording the three Bach Gamba Sonatas with Casals, could only arrive just before the concert, scheduled on June 3. The famous photographer Gjon Mili, a great friend of Schneider's, was doing a report for Life Magazine and wanted to photograph Casals playing the cello. Casals then suggested Istomin to learn these sonatas and rehearse with him, so that he would not waste any time: he would prepare the concert and have the photo session simultaneously! Anxious to live up to his prestigious partner, Istomin worked like hell to tame these works he did not know. He had barely fulfilled this mission, when he was also requested to prepare the Fifth Brandenburg Concerto. Serkin was willing to play it at the concert on June 9, but, out of loyalty to Adolf Busch with whom he had recorded it in 1935, he did not wish to record it again, even with Casals. It was quite an enormous challenge for Istomin to replace Serkin, who was considered the world's greatest performer of the Promethean cadence of the first movement. He had only a couple of days to tackle this work that he had not even sight-read. The recording sessions on June 10 and 12 were held to general satisfaction. The disciple was declared worthy of his master! As the studio truck of His Master's Voice had left Prades for recording Lipatti in Geneva, Istomin had to go to London to record his Toccata and Partita. Istomin approved the publication of the Toccata but was not satisfied enough with the Partita and refused its release. The taped recording seems to have been lost.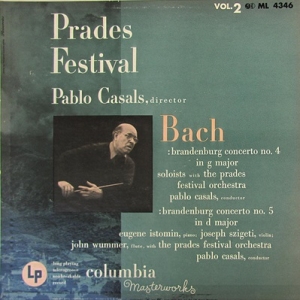 In this way, the initial "light" schedule had turned into a frenzy of high-tension work. Istomin was not even able to participate much in the festive nights that brought the musicians together throughout the festival, but he too had been carried away (spellbound) by the euphoric atmosphere of the festival, which had been for everybody a kind of epiphany: Bach was God, and Casals was his representative on earth! There was no austerity in this religion, it was a universe of freedom, a freedom harmoniously governed by the divine order. The motto Casals had repeated on many occasions during the rehearsals was: "Freedom, but with order!" Casals also revealed that all human feelings were present in Bach's music and that performers should never be afraid to express them. He often exclaimed: "Bach? What a volcanic temperament!". No one had ever dared to speak of Bach in such terms. The moral message of the festival was the apology of brotherhood between musicians, united in the same ideal. There were many tears at the farewells, and the promise of another festival the next year. As for Istomin, he decided to stay in Prades for the whole summer.
"When I became aware of the loneliness to which Casals would return after the festival, I decided to stay with him. I did the same for the next two years. We made a lot of music together, but we didn't talk much about music. We talked about anything else. I had taken the role of a son, and our relationship was wholly filial. I stimulated him and teased him with my youth and my talent. He allowed me to challenge him. I was the only one. I don't know how I got the idea to do so, but he enjoyed it. We always kept this very straightforward and affectionate relationship, despite a difficult time and the distance.
After the 1950 festival, Casals arranged that I be invited to perform in Milan (Societa del Quartetto), Florence and Lisbon. I already had concerts in Switzerland, two recitals that Serkin had offered me. I didn't come back to the United States until December. I had been in France for eight months.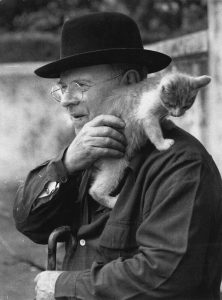 Every time I went to Prades, I would have a Steinway sent for me. At Casals' house, there was the little Gaveau. I played for him and asked him for feedback and advice, but all he did was to be in ecstasy. When I played Brahms' Handel Variations, he exclaimed that it was better than anything he had heard. I again asked him for criticism and Casals laughed in my face.
I would come around noon, for half an hour, and again, almost every day, at 5:30. We would play until 7:00 all kinds of music, sonatas and concertos. I brought a lot of scores: Beethoven's and Brahms' sonatas of course, but also Mendelssohn's, Rachmaninoff's (a big job for the pianist, but I knew he had played it with Rachmaninoff himself!). I accompanied him in concertos by Lalo, Saint-Saëns, Haydn, Dvorak, Schumann, etc. I teased him, telling him that it was too difficult for him, that he was too old, but that he had to try anyway! No one else would have allowed that. He was always treated with obsequious deference and he was delighted that I was teasing him like this. We were friendly, like a grandfather and his grandson."
The 1951 Perpignan Festival
"In 1951, I came to Prades very early, in May, when the Festival program was announced. By then, my role had changed. I was always the youngest, among the prestigious elders, Myra Hess, Clara Haskil, Serkin, Horszowski. I had been assigned a "little" Mozart concerto, the Fourteenth in E flat major, but it suited me very well as I had played it a lot with Busch. Above all, I had the great honor of sharing two entire Beethoven trios concerts with Casals and Schneider and of recording them after the festival! There were many magical moments, especially for me. But there was never the same communion, the same euphoria as the previous year. In Perpignan, we were all scattered around, whereas we had been so close and always together in the little town of Prades. And Perpignan was so hot and windy!
In August, after recording the trios, Sasha and I left for Greece, but before coming back to America we wanted to take a detour to Prades and Isaac joined us. He was returning from Israel with his new wife, Vera. He had just married her, two weeks after meeting her, love at first sight! We spent a few days with Casals in a happy and joyful mood, and we had a musical orgy."
"The 1952 Festival was great, with an incredible chamber music program. Some recordings, such as Schubert's Quintet in C or Brahms' Sextet in B flat, are landmarks in the history of recorded music. My own great moment was the fourth concert along Jennie Tourel, Isaac Stern and Casals: Schubert songs from Die Schöne Müllerin, Schumann's Violin Sonata Op. 105, Brahms' Cello Sonata No. 1 and Trio No. 3. I was also supposed to record both works by Brahms, but the recording schedule was disrupted because Casals had been ill and unable to play the cello for several days. The Sonata was only recorded during the concert and the Trio during a rehearsal. We have not authorized their release.
There had been some tension before and during the festival. Schneider, who had been the backbone of the first three editions, was upset by the demands and the incompetence of the French Committee. He had also been offended by the reproaches of musicians who had been part of the orchestra for the previous two years. Some of them were so disappointed that they even tried to convince Casals to organize a symphonic festival after the chamber music one. Moreover, Schneider had fallen madly in love with Geraldine Page and it took up all his mind and a lot of his time. He decided to give up Prades, showing a little bitterness and taking Stern along with him. However, he kept all his affection and admiration for Casals and would prove it a few years later.
Schneider gone, I was the closest musician to Casals and I had no choice but to take over. I was not prepared at all for such a task, but when we discussed the situation with Casals, this decision seemed natural to us. Looking back, I would say it was a bit of a crazy challenge, even completely crazy, but, despite the difficult moments, it was a fabulous experience that I certainly don't regret "
The 1952 festival ended with an additional concert on June 30, to benefit the Abbey of Saint-Michel-de-Cuxa. A few days later, there was a performance of the Misteri de Sant Pere Urseol, a morality of J. S. Pons. It was the story of Pierre Orsoléo, the doge of Venice, who gave up power to retire at the Abbey of Saint-Michel-de-Cuxa to seek God in solitude and silence. Casals had composed a stage music for which he had probably arranged some excerpts from his oratorio El Pessebre. Charles-Henry Reymond, the critic for the Independant of Perpignan, had been very laudatory, considering that the music was "in perfect harmony with the text". Eugene Istomin held the piano part, assisted by flutist Bernard Goldberg and oboist Leila Storch, who recalled that she had played a charming oboe solo from the top of the nearby hill and that Casals himself played percussion.
Concerts and recordings at Prades Festival between 1950 and 1952
Festival 1950
Concert on June 19 : Church of St. Peter
Bach. Trio Sonata in G BWV 1038 (with Isaac Stern and John Wummer) ; Toccata in E minor BWV 914 ; Partita No. 2 in C minor BWV 826.
Recordings:
Bach. Brandenburg Concerto No. 5 in D BWV 1050. Joseph Szigeti, John Wummer. Prades Festival Orchestra, Pablo Casals. June 10 & 12. Prades Girls College.
Bach. Trio Sonata in G BWV 1038 1038. Isaac Stern, John Wummer. Date unknown. Prades Girls College.
Bach. Toccata in E minor BWV 914; Partita No. 2 in C minor BWV 826. London (probably Abbey Road). Date unknown. (Istomin did not approve the Partita, the tape has been probably destroyed).
Festival 1951
Concerts
July 12. Palace of the Kings of Majorca. Beethoven, Trio Op. 1 No. 2; Trio Op. 11; Trio Op. 70 No. 2. Alexander Schneider, Pablo Casals.
July 16. Palace of the Kings of Majorca. Beethoven, Variations Op. 121a ; Trio Op. 1 No. 3 ; Trio op. 97 « Archduke ». Alexander Schneider, Pablo Casals.
July 18. Palace of the Kings of Majorca. Mozart, Concerto No. 14 in E flat K. 449. Perpignan Festival Orchestra, Pablo Casals
Recordings
Mozart, Concerto No. 14 in E flat K. 449. Perpignan Festival Orchestra, Pablo Casals. July 20. Perpignan Theatre.
Beethoven, Trio Op. 1 No. 2; Trio Op. 11; Trio Op. 70 No. 2. Trio op. 97 « Archduke ».
Schubert, Trio in B flat D. 898. Alexander Schneider, Pablo Casals. August 1951 (precise dates unknown). Perpignan Theatre.
Festival 1952
Concerts
June 21. Saint-Michel-de-Cuxa Abbey. Brahms, Cello Sonata No. 1 in E minor Op. 38.
Schumann. Violin Sonata No. 1 in A minor Op. 105. Schubert, 8 Lieder from Die Schöne Müllerin. Brahms. Trio No. 3 in C minor Op. 101. Jenny Tourel, Isaac Stern, Pablo Casals.
June 25. Saint-Michel-de-Cuxa Abbey. Schubert, Trio in B flat D. 898. Alexander Schneider, Pablo Casals.
Recordings
Brahms, Cello Sonata No. 1 in E minor Op. 38. Pablo Casals. June 21. (live recording on acetate disc).
Brahms. Trio No. 3 in C minor Op. 101. Isaac Stern, Pablo Casals. Precise date unknown. Taped in rehearsal, not released.