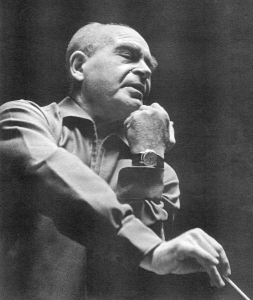 Paul Kletzki (1900-1973) had been a very promising composer and conductor, supported by Toscanini and Furtwängler, who had invited him to conduct the Berlin Philharmonic in 1925. Forced to flee Nazi Germany, then fascist Italy and Stalinist USSR, he settled in Switzerland. Overwhelmed by the horrors of the Second World War, in which he lost a large part of his family, he had to give up composition, feeling that his inspiration was depleted. He devoted himself solely to conducting. Naturalized Swiss, he had the honor of being chosen in 1967 to succeed Ernest Ansermet as music director of the Orchestre de la Suisse Romande. In that same year, he had recorded a highly acclaimed complete set of Beethoven's Symphonies with the Czech Philharmonic.
Istomin met Kletzki in America when he was music director of the Dallas Symphony, from 1958 to 1961. Afterwards, he joined him for two wonderful concerts, in Montreux and Paris. Their mutual understanding was natural, as they shared a scrupulous respect for the score and the will to put themselves totally at the service of the composer.
No available information about their concerts in Dallas.
1963, September 10. Montreux. Beethoven, Concerto No. 4 & Triple Concerto (with Stern and Rose). Warsaw National Philharmonic. Recorded concert.
1965, May 11. Théâtre des Champs Elysées. Brahms, Concerto No. 2. Orchestre National de l'ORTF. Recorded concert.
Beethoven, Triple Concerto in C major op. 56: first movement. Eugene Istomin, piano. Isaac Stern, violin. Leonard Rose, cello. Warsaw National Philharmonic. Paul Kletzki. Montreux, 10 September 1963